Who really wants to think about a hot water heater?! It's best out of sight and out of mind. That is, until the hot water runs out.

When it's time to replace a water heater, consider a product that is environmentally friendly and offers lower energy costs. An indirect water heater is one of the most energy-efficient, low-cost water heaters on the market. 

Gas fired water heaters consume a lot more energy than most people think. In fact, they use more energy than most other household appliances combined! When comparing a gas fired water heater to an indirect water heater, the choice is clear: the indirect water heater is efficiently the better choice.     
- Indirect water heaters reach 96% efficient. The average gas water heater is about 60 - 70% efficient.
- An indirect water heater is well insulated and loses very little heat during long periods. A gas water heater is always losing energy.
- Most indirect water heaters have a lifetime warranty. The typical life of a gas-fired water heater is 12 years.

Triangle Tube leads the way in manufacturing heating and hot water products at the lowest environmental footprint possible. The newest product does even more, allowing system operations at lower temperatures and exchanging more energy (BTU's) per square foot.
The Ginius changes everything with the new Picanto heat exchanger technology. This product delivers unmatched performance that competes with any product in the market. The donut-shaped heat exchanger transfers heat on the inside as well as the outside of the patented double walled stainless shell of the inner tank. The distribution and flow of the water are optimized by a new and specific design that forces the water to follow the channels created within the inner tank structure to create a highly efficient exchange of heat.
To further enhance the system's efficiency, the Ginius tank is insulated with two inches of CFC/HCFC-free foam, bringing standby loss to less than one degree Fahrenheit per hour. It generates the same amount of water, or more, as a typical tank, but more energy efficient. A few other unique features include


UNIQUE
• Patented Design - Unique in the world
• A new innovation in Excellence in Hot Water
• 2,4 ft² heat exchanger > up to 150 000 BTU
STAINLESS STEEL
• Full stainless steel solution Heat exchanger and outside tank
• Corrosion resistant
• Combination of high-quality welding processes: Laser welding and resistance welding (  
  (outer tank full stainless steel)
PRESSURE RESISTANCE
• Approved for 80psi boiler pressure
• Each heat exchanger is factory tested at 190psi
• Max operating pressure 45psi > 80psi) PROOF of high durability > Durability test 75000  
  cycles from zero to 190psi.
EFFICIENCY
• Highest BTU transfer by ft²
• Allows to reduce boiler temperature
• Energy Saving (up to 30% more BTU transfer by ft²)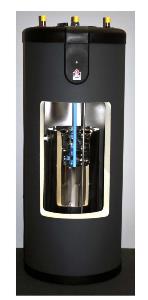 The heat exchanger and the outer tank is constructed entirely of passivated stainless steel to ensure long service life and comes with a lifetime guarantee. The end result, energy efficiency and plenty of hot water for you and your family.  

"The Ginius was exclusively developed and created by ACV Triangle Tube. ACV continuously invests in innovative product development. Being a leader in the heating and hot water industry forces us to keep pushing the boundaries of innovation. We believe that by offering our customers amazing products with higher efficiencies and enhanced technology, we are empowering them to achieve excellence in the communities they serve.

Since 1946, Triangle Tube has been an innovator and industry leader in the manufacture and supply of quality stainless steel Hot Water Heating Equipment. ACV has recognized the importance of the availability of hot water in everyday life since the early 1920s. ACV Triangle Tubes serve all hot water-related demands in the residential and commercial sectors with sheer excellence. Triangle Tube, excellence in heating and hot water systems."